There are only four kinds of people in this world: those who have been caregivers, those who are currently caregivers, those who will be caregivers and those who will need caregivers. Caregiving is universal.
– Rosalynn Carter, Former First Lady of the United States
The Caregiving in the U.S. 2020 Report by National Alliance for Caregiving (NAC) and AARP shows that family caregivers now encompass more than one in five Americans. 


The average caregiver age is 49.4 years, 61% are reported to be women and 50% of caregivers are a parent or parent-in-law. Caregivers provide an average of 23.7 hours per week and 21% of providers perform a full-time job of 41 or more hours of care each week. 
The NAC and AARP 2020 report also revealed that family caregivers are in worse health compared to the previous report five years ago. There is a need for solutions to support family caregivers, as well as those under their care. 
In 2021 Realm of Caring published data from our Observational Research Registry (ORR) in collaboration with Johns Hopkins University School of Medicine on Cannabidiol (CBD) Product Use And Health Among People With Epilepsy. Among significant findings for individuals living with epilepsy, caregiver burden was assessed, evaluating Role Strain (stress due to role conflict or overload) and Personal Strain (personal stress from the experience of caretaking). 
Caregivers of patients who were using CBD products reported significantly lower scores on the Role Strain subscale compared to caregivers of Controls in the study. Taking a look at other findings, we can understand how stress due to a caregivers role may be alleviated. CBD Users in this study had lower instances of reported prescription medication use, lower medication-related adverse effects, less ER visits, and less missing school and/or work days.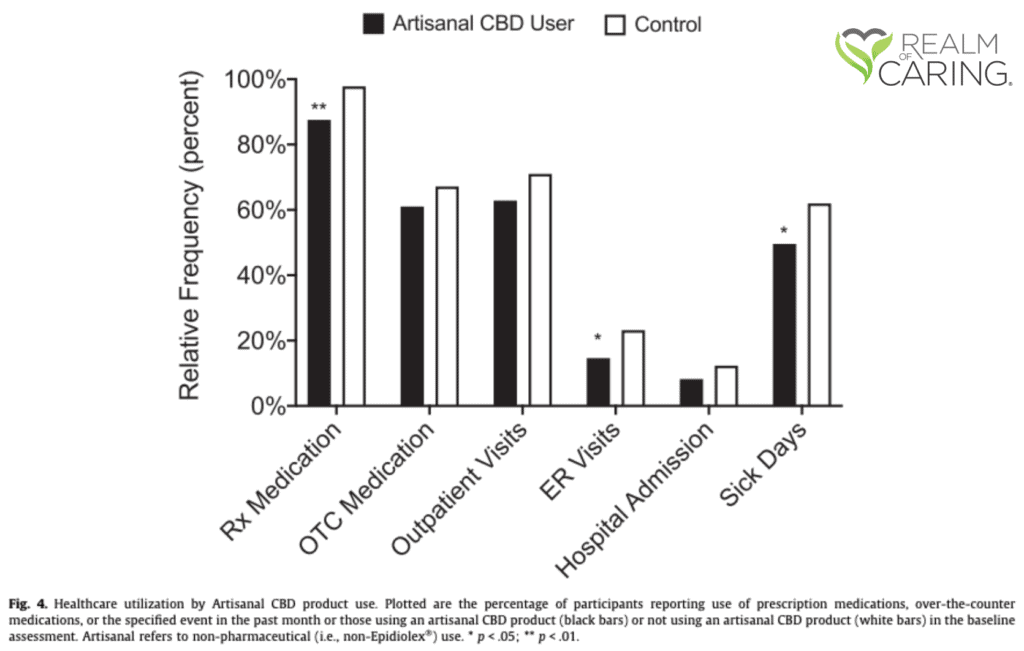 The Level of Care Index from the AARP 2020 Research Report shows that 40% of current caregivers are in high-intensity situations. The decline of caregiver self-rated health since 2015 is happening across most subgroups of caregivers (including all hours of care, ages of recipients, incomes, marital status, and choice of situation). Nearly one in four caregivers say it is difficult to take care of their own health.
Caregivers report chronic conditions at nearly twice the rate of non caregivers to include heart disease, cancer, diabetes and arthritis. They also report diminished immune responses and increased rates of physical ailments such as acid reflux, headaches, and pain. 
This begs the question, who cares for the caregiver? One could argue that we all should. In addition to sensitizing communities to be aware of mental health risks for caregivers, there are ways to help. Employers can provide flexible work schedules, virtual courses on how to care for a specific ailment can be made widely available, and resources could be better at navigating complex health systems.  
In addition to helping the caregiver directly, it is equally as important to find potential solutions for those they are caring for. Realm of Caring is committed to both. Through our research it was found that the benefits of cannabinoid therapy for treatment-resistant conditions may alleviate caregiver burden. These very significant findings provide us with pathways to solutions. 
Navigating through cannabinoid therapy for you or a loved one can be overwhelming and complex. But it doesn't have to be. The Realm of Caring Care Team is here to help. Reach out by emailing info@realmofcaring.org, calling 719-347-5400, or scheduling an appointment. Our support to you is always free and one on one.