Not only can being mindful with your skincare routine provide direct nutrients and benefits to your skin, but routines of self care may also benefit our mental wellbeing. Despite the most common reason for not engaging in self care rituals being lack of time, incorporating it into our lives may be a critical component we are missing out on. Engaging in a self care routine has been clinically proven to reduce or eliminate anxiety and depression, reduce stress, improve concentration, minimize frustration and anger, increase happiness, and improve energy. Here we will discuss how incorporating cannabis infused products may enhance your skincare routine as well as a few high quality products to try that have passed our strict vetting process. 
The Endocannabinoid System (ECS) and Your Skin
There is a continuous need to seek more efficient, safer, and widely available methods to treat medical conditions, skin pathology included. Topical use of cannabis as a form of therapy covers a wide scope of skin disorders due to anti-inflammatory, anti-itching, wound healing, anti-microbial, and anti-proliferative effects. 
Elements of the ECS have been discovered in the skin, to include our skin's immune system. Through interaction of the receptors in our skin layers, cannabinoids have shown through research to alter pain, stimulate wound healing, and alleviate itch. These studies may add a different dimension on how we see the treatment of several skin diseases. 
Of the cannabinoids researched to date for skin health, cannabidiol (CBD) is a widespread ingredient in skin care products formulated as body oils, moisturizers, salves, lotions, and balms. Delta-9-Tetrahydrocannabinol (THC), and potentially cannabinol (CBN), may also be responsible for skin benefits such as reducing cytokine production and oxidative stress. Additionally, cannabigerol (CBG) has powerful anti-inflammatory and antibacterial properties that may add benefit to our skin health.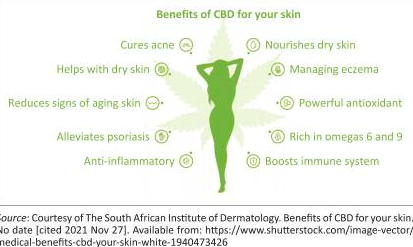 Acne and rosacea
It has been shown that cannabinoids exert complex anti-acne effects by normalizing excessive sebaceous lipid products, reducing proliferation, and alleviating inflammation in human sebocytes. 
As well, acne and rosacea may be worsened (or caused) by bacteria. CBD and CBG have shown through research to have remarkably useful antimicrobial properties. 
A published study from 2019 tested the effectiveness of CBD-enriched ointment in inflammatory skin conditions that result in scars. Among those in the study, individuals reported suffering from dermatitis, psoriasis, and acne. After a period of three months, the evaluated skin parameters were significantly improved in all 20 volunteers and none reported any worsening. Specifically, the hydration markers increased by nearly 7%. This study concluded by saying that "topical administration of CBD ointment is a safe and effective non invasive alternative for improving the quality of life in patients with some skin disorders, especially on inflammatory background" (Palmieri, et al.). CBG has also demonstrated abilities to alleviate inflammation within sebaceous glands, thus also lowering the appearance of irritated sebocytes.
Vitiligo and Melasma
It has been well documented that the ECS is present in primary human melanocytes (the pigment-producing cells of the skin). Endocannabinoids seem to have a double effect on these melanocytes. First, in cases of vitiligo and depigmentation disorders they induce melanogenesis at low concentrations through CB1 receptors, meaning that they may produce pigmentation. Secondly, the endocannabinoids induce apoptosis at high concentrations through TRPV1 receptors to treat melanomas and melasma. 
Wound Healing
As mentioned, cannabinoid signaling regulates skin inflammation but also contributes to the formation of connective tissue, therefore it influences the complex process of skin wound healing. 
Patients with epidermolysis bullosa (EB) were observed in a study where they each initiated topical CBD use. One patient was able to wean completely off of oral opioid analgesics and all three patients observed reported faster wound healing, less blistering, and amelioration of pain. 
Anti-Itch
Pruritus is an uncomfortable localized or widespread sensation that triggers the intense urge to scratch and is a common symptom in dermatologic conditions. A study involving 21 patients with pruritus for 3 weeks demonstrated that topical application of an endocannabinoid-containing cream twice per day resulted in complete elimination of the sensation to itch in more than 38% of the subjects. Additionally 52% reported significantly reduced sensations. It was found that this had less to do with the endocannabinoids providing antihistamine effects and more to do with reducing the nerve fiber activation and decreasing the release of neuropeptides which induce or exacerbate skin responses.
Skincare Without Irritants
Popular skin treatment products may contain harsh chemicals. Cannabinoid products are often free from irritants. CBD is also beneficial in that it has been shown to reduce sebum production, decrease the spreading of sebocyte cells, and decrease levels of pro-inflammatory cytokines. However, before you buy it is important to first understand the quality of the product. We have developed a comprehensive Quality of Product Matters Guide to help you or our Care Team is here to assist as well. To help get you started, here are four products that have passed our strict guidelines for targeting different areas of the skin. Reach out to our Care Team directly for exclusive discounts on each of these products, provided to Realm of Caring clients to help offset the cost of cannabinoid therapy.
Sebaceous Glands produce lipid-rich sebum that has important functions such as controlling the growth of bacteria. Cannabinoid receptors are found in the sebaceous glands, therefore cannabinoids can assist in the modulation of their activity. This includes suppressing keratinocyte proliferation to provide psoriasis relief and exerting anti-bacterial effects necessary for anti-acne agents. Available evidence also suggests that cannabinoids may have therapeutic value in dryness and inflammatory related skin conditions. When looking for a facial serum to include in your routine, NuuMe Organics provides a nourishing blend of broad spectrum CBD with additional essential oils for calming, hydration, and a pleasant scent.
Finding a solution for the delicate skin around our eyes can be difficult, however Eossi Beauty has developed a gentle formula to address common problems. It includes ingredients to smooth and firm as well as nourish and hydrate. With 75mg of CBD and 7.5mg of CBG, their Nyx Under Eye Cream is providing you the hemp-derived cannabinoid benefits as well.
Element Apothec makes products with sensitive skin in mind. Their Nourish Lotion contains vegan ingredients to rejuvenate and repair skin for revealing a toned, natural glow. It is formulated with broad spectrum, hemp-derived cannabinoids for ultra-hydration across the whole body.
Introducing aromatherapy to your skincare routine can help by relaxing your muscles and lifting your mood. It can be incorporated through inhalation, skin absorption, or massage. The best places to apply an aromatherapy roller are behind the ears, on the temples, the bottom of the feet, or your wrists. Consider the Lavender, hemp-infused roll-on from Charlotte's Web for your aromatherapy needs.